Guile & Glory: Firstborn
Guile & Glory: Firstborn - Free Mode Update
---
Hi all! This is it! Our first major content update brings Free Mode to Guile & Glory: Firstborn. This update includes a bunch of new features! You can find the list below:
What's New:

Free Mode - replay certain levels with your choice of unlocked heroes (and villains!)
Dreaming Mirror Lorebook item - you should find a new item in your Lorebook. This mystical mirror unlocks Free Mode, and will eventually be acquired in-game. For now, though, it should be waiting for you so that you can try out Free Mode right away!
5 Unlockable Free Mode Characters (the 3 heroes, plus 2 bonus characters!)
New random dialogue when completing a mission in Free Mode
New music for the Bone Wastes by the very talented Landon Walter
Improved feedback for the settings menu
What's Next:
Chapter 4
Revised and expanded character progression
Further improvements to Free Mode
More Free Mode heroes to unlock
Free Mode - Introduction
If you want to discover Free Mode on your own, feel free to skip this section. However, as the Free Mode interface does not yet have a full in-game tutorial, we decided to offer brief primer to help jumpstart your adventures in the Drowned Lands.
Accessing Free Mode: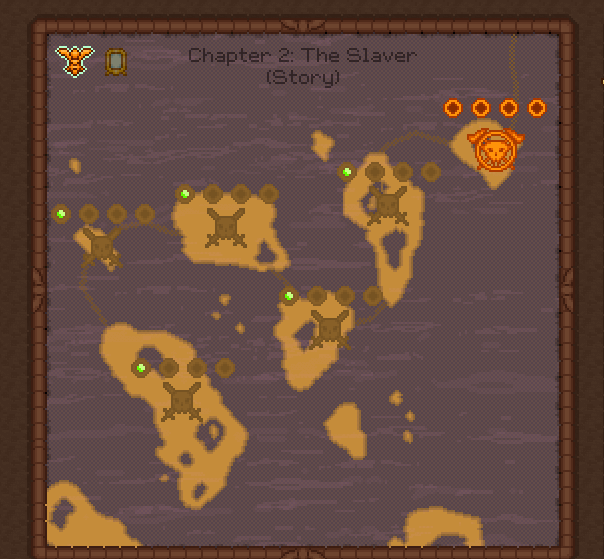 To access Free Mode, just click the Dreaming Mirror on the top left corner of your map. You should see the suffix of the chapter name change from "Story" to "Free Mode". Any level you select now, you will enter in Free Mode. Be aware that not all levels have a Free Mode option, and to access a level in Free Mode, you must first complete that level in the story. If you want to get back to Story Mode, just click the Symbol of Amun next to the Dreaming Mirror.
Arranging Your Party:

Once you enter a battle in Free Mode, a new window should pop up on the left after you close the Victory Conditions. This is the Free Mode menu. You will see the portraits of all the Free Mode characters you have unlocked. If a portrait shows a greyed out Symbol of Amun, it means you haven't unlocked that character yet.
To place a character, simply left click on the character's portrait, then left click on a deployment tile to place the character. Once placed, you can left click on the character to change their facing. You can also freely drag and drop characters around the deployment area.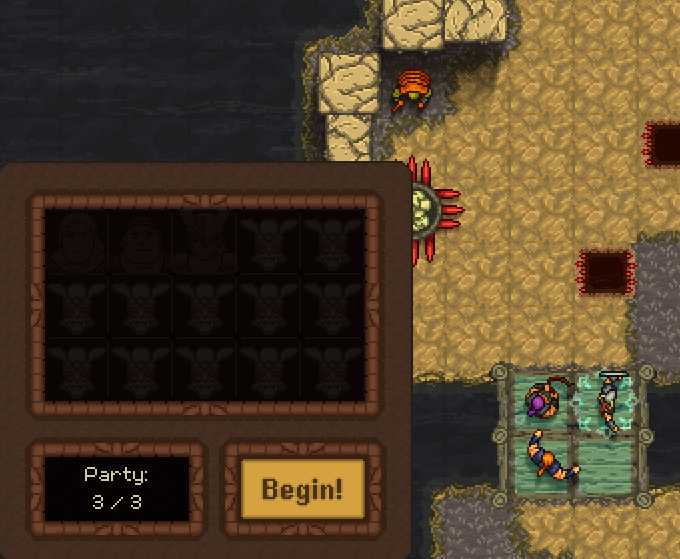 To get rid of a character, simply right click on the character in the deployment zone. The character will be removed, and will be available to place again if you so choose. You cannot remove a character if you have only one character remaining in the deployment zone. Be aware that each battle has a maximum party size, displayed in the bottom left of the Free Mode window. You will not be able to start the battle until you have chosen a party with no more than the maximum number of members. When you are done arranging your party, simply click "Begin" to enter combat!
Free Mode - Unlock Guide *Spoiler Warning*
At present, there are no clues hinting at how to unlock all the Free Mode characters, or who they are. You should unlock them all easily enough if you just play through the Early Access build, but if you want to know exactly where to find them, this guide has you covered.
Be warned: This section contains spoilers. Do not read on if you want to discover the characters for yourself! Please also be aware that the unlock requirements detailed in this guide are very likely to change in the future.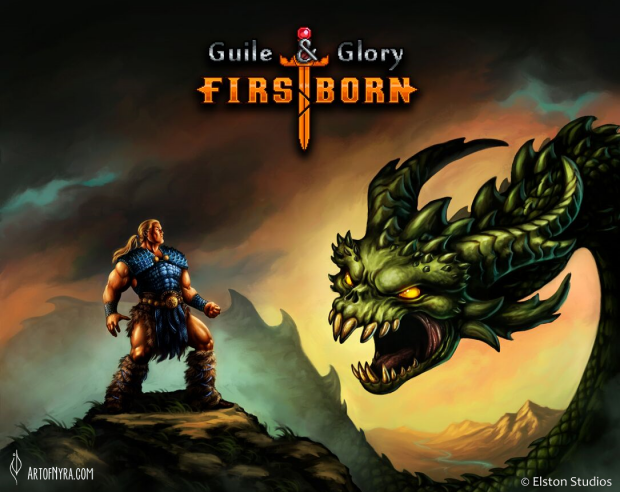 Outlander:
As the starting hero, the Outlander is available in Free Mode right away.
Slaver:
The Slaver can be unlocked in Free Mode by completing the mission "Penitence" in Story Mode.
Guardian:
The Guardian can be unlocked in Free Mode by completing the mission "Conviction" in Story Mode.
Cyclops:
The lovable Cyclops makes a return in Free Mode, eager to kill more "Frog Faces" alongside its new friends! It can be unlocked by completing a perfect run in the mission "Unlikely Alliance" in Story Mode.
Rakshasa:
Yes, you read that right. The Rakshasa boss is playable in Free Mode! When Guile & Glory Firstborn is released, unlocking this nightmarish juggernaut as a playable character will require some serious adventuring. For now, though, you can add it to your roster by completing a perfect run in the mission "The Demon and the Snake" in Story Mode.
Files
Guile & Glory: Firstborn Early Access v0.202
18 MB
Mar 08, 2019
Get Guile & Glory: Firstborn